Thorough Commercial Inspections To Aid The Buying Process
If you're in the process of purchasing a commercial property, a real estate inspection is a must. Making such a substantial investment requires careful consideration and research to ensure that the property you're thinking of purchasing is what you need it to be. Peace of Mind Pest Control provides commercial real estate inspections that will help you make the right decision.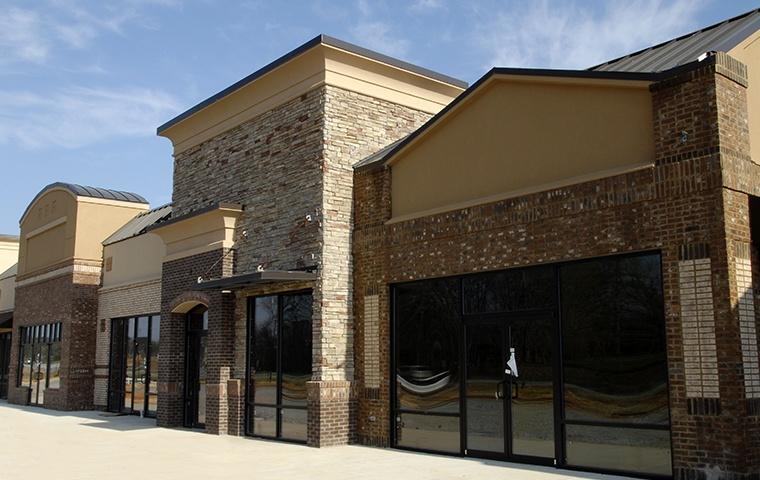 Our Commercial Inspection Process
In order to safely move forward with a real estate transaction, you need a detailed assessment of the property so that you won't be thrown any curveballs after the sale is complete. Having no inspection or an incomplete one can end up costing you thousands of dollars in unexpected repairs.
Peace of Mind Pest Control provides extensive and detailed real estate inspections that evaluate all major components of the property, including the:
Roof

Electrical System/Plumbing System

Heating System/Cooling System

Interior/Exterior

Parking Lot
Upon completion of the inspection, we'll provide you with a comprehensive and easy-to-read report that includes photographs. This report is typically delivered three to four days after the inspection. Inspection prices vary based on a number of factors, including the size of the property, the type of property, special requests, and more.
Commercial Real Estate Inspections
Property managers, investors, bankers, leasing agents, tenants or even lenders can use Peace of Mind for their commercial building inspections because we provide a report on the current state of the building. We often find things that need to be addressed or can help in negotiating price.
Pricing
Pricing is determined on a case-by-case basis. Many factors affect pricing, and this includes what the clients wants and needs as well as the building size, type, etc.
Inspection
The commercial inspection involves a comprehensive evaluation of all major components of the building including the roof, structure, electrical, interior and exterior, pavement/parking, Heating/Cooling, plumbing and more.
Report
The level of detail and thoroughness is our strength. The report is easy to read and includes photographs with most callouts.
Report Turnaround
Depending on the size of the property the report is delivered typically 3-4 business days after the completion of the inspection.
Building Types
Medical Buildings

Shopping Center

Motels

Office Buildings

Warehouse facilities

Manufacturing facilities
Multi-family buildings

Condominium buildings

Apartment complexes

Office condominiums

Restaurants
Commercial real estate buyers always look at the bottom line. A purchase is an investment, and any potential problems could hinder the sale. Inspections catch the problems from the very beginning, reassuring the buyers and informing them of how much money it will cost to repair a roof or to replace a heating and cooling system. Peace of Mind provides professional commercial real estate inspections for buyers who want answers to their questions.
We Provide Thorough Inspections
When you're purchasing commercial real estate, you may have several questions that need answering, such as:
Does the electrical system need upgrading?

How is the water pressure in the building?

Will the heating system fail within the next year or two?
The building's age should always be taken into consideration. The older the building, the more likely repairs need to be made to certain systems. A plumbing system can last for nearly 60 years before it needs to be upgraded. A flat commercial roof may need repairs as it reaches 15 years of age; a roof-mounted HVAC system may fail after 15 years. We inspect every major system in the building and provide a detailed report of our findings.
Why Choose Peace of Mind for Commercial Inspections?
You should never go blindly into a commercial real estate investment. When you're buying a home, you may buy it based on certain things that you love, such as the bathroom or the sunroom. Buying commercial real estate is more involved and requires a detailed assessment beforehand. After all, it's an investment, and you don't want to be surprised with costly repairs at the beginning. We'll give you peace of mind in your purchase and help you to make the right decisions before investing.
Helping Make Real Estate Transactions Run Smoothly In Modesto & Stanislaus County
When you're in the market for a California commercial property and need a real estate inspection, Peace of Mind Pest Control is the company to call. We provide comprehensive, detailed inspections and reports so that you can have peace of mind when making your real estate decisions. Contact us to schedule your appointment.