Termites Are Bad News For Your Modesto & Stanislaus County Property
Termites may be small, and they may stay out of sight, but when they get into a home or business, they cause serious damage. Because it can be challenging to identify whether or not termites have invaded a structure, it's important to stay vigilant. Peace of Mind Pest Control can help in that endeavor with our variety of termite control services.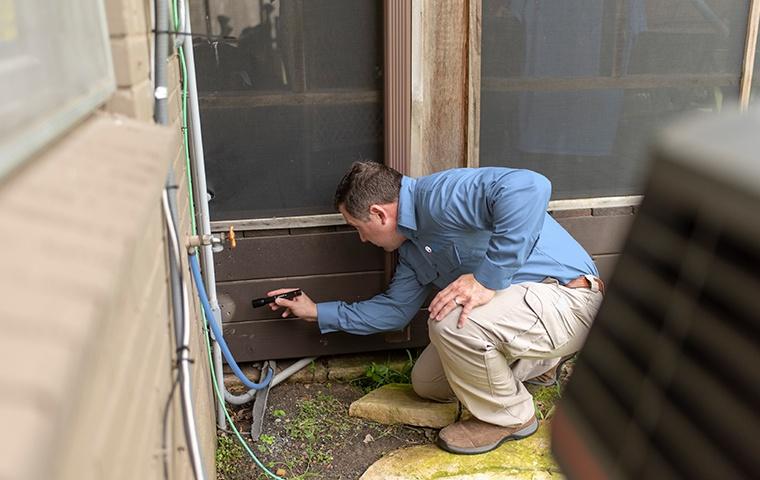 Our Termite Control Service Offerings
Free Limited Termite Inspections (Non-Real Estate Transactions)
Peace of Mind Pest Control offers free limited termite inspections to determine whether you have an active termite infestation. The findings of the inspection will help us recommend the right type of treatment.
Subterranean Termite Treatments
To treat and prevent subterranean termites, Peace of Mind Pest Control provides liquid termite treatments. These treatments place a barrier of protection in the soil around the foundation of your structure. When termites cross it, they pick up the termiticide on their bodies and spread it to other termites, eventually eliminating the entire colony. Liquid termite treatments come with a one-year warranty. This warranty is renewable and transferable.
Drywood Termite Treatments
We offer fumigation treatments for drywood termites. This treatment is warrantied for three years, as long as any termite activity that occurs within the three years is in the same location as the original activity.
Real Estate Inspections
We perform over 1,000 inspections annually for the real estate industry and have developed a reputation for well-organized and detailed reports and that are designed to give you and your clients a clear picture of the home they are investing in. Request your WDOR by scheduling your termite inspection today!
Pre-Construction Treatments
If you're in the process of building a home, it's the perfect time for termite protection. Our pre-construction service consists of a liquid termite treatment that protects your home from termites before you even build it.
Repairs
In addition to treating or fumigating your termites, we can perform repairs related to termite damage or other wood destroying organisms like dry rot. Dry rot and fungus damaged wood are a termite's playground, so let us help you get them out and keep them out!
Termite Control Warranty & Prevention Program
The only thing worse than a termite invasion is finding out the pests have come back after you have eliminated them. You can avoid that situation by taking advantage of our warranty and prevention program because our team will take steps to stop the invaders from coming back to your real estate. If you spot any termites after we have applied the treatment and don't know what to do, you can let us know. We will return to the building to ensure that each termite is gone. Available for subterranean termites only, our warranty program is the perfect way to protect your home against termite activity in the long term. It includes an annual inspection. If we find termites, we'll spot treat the areas where they are active.
Protecting Your Modesto & Stanislaus County Property From Costly Termite Damage!
They say an ounce of prevention is worth a pound of cure, and in the case of termites, that is true. Peace of Mind Pest Control provides the termite control services you need to make sure your home or business does not have an active termite infestation and helps ensure one does not occur in the future. If you suspect termites are active in your home or business or wish to take preventative action, contact us today to schedule your free termite inspection.
Request Your Free Pest Control Estimate
Complete the form below to request your free estimate.