The Safe Way To Remove Rats From Your Modesto Property
February 15, 2023
Rats are an all too common sight in Modesto. Thankfully, homeowners know to call Modesto pest control professionals once they spot a rat in their homes. But unfortunately, they don't always treat rats outside their home with the same urgency, which is a huge mistake.
It doesn't take much for a rat skulking around your yard to find its way indoors and start a rat infestation. We want to help homeowners avoid this disaster. Please keep reading to learn about the dangers of rats inside and outside your home, and contact our Peace of Mind Pest Control team to end your rat problem.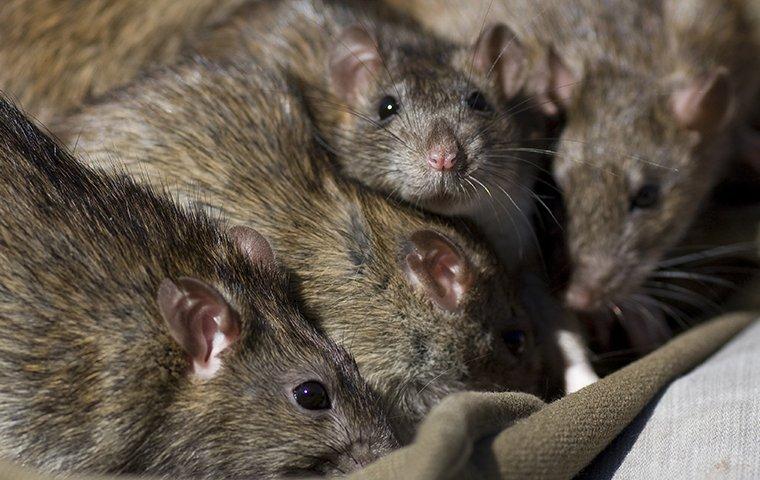 How To Tell If It's Rats Lurking Around Your Property
How can you distinguish rats in Modesto from other rodents? Here are some quick identification tips:
Piles of dropping inside or outside your home: Rat droppings are smaller than mice and have a wrinkled texture.
Damage to structures' interiors and exteriors: Rats continuously gnaw on wood and other materials to keep their incisors in shape.
Small piles of food or garbage: Rats will store excess food close to the nest, so if you find piles of food, you'll likely find rats nearby.
If you have rats inside your Modesto home, the odds are good that they've nested outside, too. But you don't need to find all the nests on your own. When you hire Peace of Mind Pest Control, we'll perform a comprehensive investigation covering all areas of your property.
Rats Can Damage Property And Spread Dangerous Diseases
They may be small, but rats are very destructive. They'll damage homes to find suitably safe places for nests. They'll also chew through obstacles to make a more direct path of travel or to find food on the other side.
More concerningly, rats can spread debilitating diseases to humans through their waste. For example, contact with their feces or urine can lead to liver damage from leptospirosis. Pests they carry, like fleas, also serve to spread diseases, as is the case with bubonic plague.
The diseases rats carry put you and your family at risk. Act fast and call Peace of Mind Pest Control immediately to eliminate these serious threats. Our team acts fast to make your home safe once more. We don't stop until your home is pest free.
The Safe And Effective Way To Remove Rats On Your Property
Many tools are available that promise to eliminate rats for good. Desperate homeowners turn to these options with high hopes, only to get poor results in return time after time. As alluring as some of these products may be, they're functionally useless when not used properly; this knowledge only comes with experience.
Since 2008, Peace of Mind Pest Control has been helping homeowners in the Modesto area combat pests on their property. We provide efficient and safe pest solutions all year with proven products and techniques. Call us today for a free estimate and learn why professional pest control is the best way to end rat infestations.
Effective Tips To Prevent Rats From Returning To Your Property
Rat prevention is a vital part of the extermination process; if you don't know how to prevent rats, you leave the door open to another infestation.
Learn how to keep rats in Modesto away with these tips:
Keep your property clean and orderly: Rats favor nest locations that hide them from predators. In addition to nesting in walls, they'll prefer wood piles, unkempt gardens, open trash cans, and overgrown bushes.
Make sure you seal food tight: Rats come inside in part searching for food. They'll smell food not stored in air-tight containers and, upon discovering this food source, will nest nearby.
Keep things dry: Rats aren't picky about water sources: moisture buildup on walls or machinery will do just fine, as well as leaking pipes. Fixing these problems will make your home more challenging for them to nest in.
Don't tackle a rat infestation alone. Instead, call on the pros at Peace of Mind Pest Control. We'll listen to you and carefully construct a plan that treats your home based on your needs and concerns. Contact us today to learn more about our residential and commercial pest control services in Modesto, and learn how you can get a free inspection.